Lethal Minds Volume 7
Volume 7, Edition 1 15DECEMBER2022
Lethal Minds Volume 7
Volume 7, Edition 1 15DECEMBER2022
Readers, excited to reach out to all of you.  Thanks for following the Lethal Minds Journal; there is much to come soon.  Remember, this is a journal by you and for you.  Soon I expect this journal to be a one-stop source of information to help you on your journey in the military and out. As we enter the Christmas Holidays and New Years I want to recognize a series of charitable organizations that have helped me and many others out.  Please look up the following organizations and if able consider supporting them in any way you can.  Hunts for the Brave supports veterans by getting them into the great outdoors in this awesome nation.  PB Abbate is a great organization that seeks to connect veterans with each other, named in honor of a young, legendary Marine killed in Afghanistan while in the service of this nation.  Also check out the Semper Fi Fund.  If you are suffering from a dire situation that is medical or otherwise, reach out to them and they will find a way to help you.  These are good organizations worthy of your time.
Respectfully,
Julian Tsukano
Contributor, Lethal Minds Journal
Notes From the Community
Community - Kagan Dunlap

Art Of Lethal Minds - Seth Hartman
Organization Spotlights
Hero Games Charity

Hunts For the Brave

Soflete

Dead Reckoning Collective

PB Abbate

Live American Yogi

Sangin Instruments

No Barriers Warriors

Veterans Expeditions

Saddles in Service

One More Wave

Black Azimuth Solutions

Moments in Leadership Podcast

Quantico Warfighting Society

Fire For Effect Candle Co.

Veterans Repertory Theatre
Dedicated to those who serve, those who have served, and those who paid the final price for their country.
Lethal Minds is a military veteran and servicemember magazine, dedicated to publishing work from the military and veteran communities.
Notes From The Community
Community - Kagan Dunlap
I wasn't quite sure where to start because I don't typically find myself writing in an extracurricular capacity, however, I believe this is an important thing to make known.  I've always been drawn to veterans and active-duty service members most of my life whether it was people I knew in the community, people my parents knew, or people I worked with when I was a civilian.  The majority of these people were good human beings and would give you the shirt off their back if you needed it.  Since I've been in, I've met countless incredible people capable of a myriad of things from art to music, science and medicine, sports, philanthropy and tons of other things.  I've come to find that veterans and service members are some of the most incredible human beings on earth. I'm not saying this because I think that people who haven't served aren't also capable of incredible things as well, but it always amazes me how veterans and active duty tenaciously find a way.  Maybe some of it has to do with the foundational principles that we oftentimes share or the ethos or mindset we tend to adhere to, I'm not entirely certain.  I do know this, and that is that together we are capable of making a massive impact on society and we can do anything that we set our minds to.  Part of what I do on the side as a content creator in the social media realm is repost content from active duty and veterans. I believe that it's important for us to be more supportive of each other the same way we have been when we served together with our brothers and sisters in arms.  I feel that I have an obligation to do everything within my power to help people within our community whether it be by showing people a veteran who's an aspiring artist or supporting a veteran owned business or ensuring people are aware of a nonprofit that's having an impact. Veterans and active duty are out there grinding everyday to pursue their dreams and goals the same way any other person is, and we can absolutely help each other achieve these goals as a community by simply showing our support in whatever capacity we can. I've found that one way to do this is by buying things from a veteran owned business rather than from a big box store or subscribing to a service that's provided by a veteran or active-duty service member instead of from another source.  Even small things like that can have a massive impact at scale and its tangible.  I've seen what incredible things active and prior service members are capable of personally, and I believe wholeheartedly that together we can lift each other up and rise together.  A rising tide lifts all ships, which needs to become our main focal point. I recently had a conversation with a friend of mine who I served with in 2nd Battalion 3rd Marines and one of the things we talked about was the fact that it's easily forgotten that one of the main goals of the military is taking people in from all walks of life and producing better citizens.  I believe that we are all capable of leaving the world better than it was when we entered it and I feel an obligation to do everything in my power to pass that modus operandi on to everyone I meet because together we can do anything. 
Art Of Lethal Minds - Seth Hartman
As a mid-career service member, I've found passion in creative processes, interest in the stillness, and healing in isolation. I've also had the privilege of connecting on multiple levels with talented Marines, Soldiers, Sailers, and Airmen on multiple occasions through online platforms, podcasts, journals, galleries, and other networks. With service being our commonality, it is clear to see the influence it carries on through our written, spoken, and designed works, because let's face it, having a left-sided brain in this line of work doesn't always play to our biggest strength; creativity. When Lethal Minds Journal reached out to ask me to provide some perspective, I felt the most appropriate thing to do was highlight the importance art has played in my life and why I believe it to be vital to service members and the organizations they belong to.
Art is an expression. It's a thought that is delivered through a medium that requires ones attention and intention. It's unconventional in nature. It also requires practice. Success being measured by failure. Many artists submit their work for the viewing pleasure and criticism of the world via the online galleries each of us carry in our pockets. Others work in silence. Regardless of whether one desires to pursue profit and professional opportunity, recognition, or quietly create for themselves, the outlet has proven to be an effective means of communication. Art is interpretive by nature and offers that introspective option to all who encounter it. This allows for a conversation-less communication to take place. Perhaps it reaches an audience or individual that cannot or will not improve or be dissuaded. It can speak to those who need to understand something pure.
For example: Mustang v. Mustang 
While I found interest in my boyhood obsession of the Wild West, painting scenes of bucking broncs, endless deserts, and gunfights, I started my art journey with a fused concept; classic military power beside classic American West power. I painted Mustang v. Mustang, a surrealism-styled oil painting of a mustang racing a WWII-era P-51 Mustang . I did this completely for me. Nobody knew who I was or what I enjoyed. The response was overwhelming and while I enjoyed the support I slowed down the momentum. Art was never a race or paycheck for me, it was a movement and "ah-ha" moment I wanted to share with others like me. Others who could appreciate what I appreciated.
While I don't create very many service-related artworks at this time, I can say that the mindset I've carried all of these years has given me an edge within our respective craft. It has stilled my soul and broadened my friendship. It translates in ways I don't see. I encourage all to attempt the process. Draw, write, etc., because the neural pathways art practiced in our personal lives play in our professional lives set us apart from our old selves. Why does art matter in a journal that discusses the geopolitical climate of the world? Maybe one of you can narrow it down because I don't have all of the answers. But I believe that somewhere between our talents and imagination lie the greatest solutions we could ever discuss.
Founded in 2017, the Hero Games Charity initially began with a mission to introduce crossfitters to Special Operations-styled training in Virginia's Peaks of Otter mountains. Founders JD Hammans, and his brother and sister-in-law, John and Ariel Hammans, designed the Hero Games to emulate tactical scenarios, with each competing team led by Special Forces members.
After their 2019 Hero Games, however, the organization discovered a greater purpose. It donated the proceeds from the competition to the family of Rusty Robinett, a Green Beret who had been killed in a boating accident following a deployment to Afghanistan. From then on, the Hero Games Charity, now a 501(c)(3) nonprofit, has dedicated each of its competitions to Gold Star Families, with a focus on families of fallen Green Berets and Army Rangers.
Hero Games Charity's cause is a personal one for its founders. JD Hammans is an Active Duty Special Forces soldier with over 18 years of experience, including 7 combat rotations to Iraq and Afghanistan; his family is no stranger to the grim realities of combat.   
Beneficiary Gold Star Families are flown to Bedford, VA on an all expenses-paid trip to view and, oftentimes, even participate in the Hero Games thrown in their honor. The 2022 Summer Hero Games were held in support of the family of Sgt. Jon Peney, an Army Ranger who was killed in 2010 while attempting to provide aid to a fallen Ranger in Kandahar Province, Afghanistan. 
Apart from hosting the Hero Games, Hero Games Charity organizes mountain survival courses for adventurous adults and youth. Particularly skilled survivalists can compete in their Mountain Survival Challenge, where two-person teams race head-to-head in an attempt to be the first to make it out of Jefferson National Forest. The proceeds from these survival courses go towards financing each year's Hero Games, as well as the honored Gold Star Families. 
Most recently, the Hero Games Charity organized a Coastal Survival Course near Eglin AFB, Florida. From December 17th to December 18th, participants learned the "Big 5" of survival: water, safety, shelter, fire, and food, with all the money raised going towards the 2023 Hero Games.
Hunts for the Brave is a charitable division of the Marriott-Slaterville, Utah-based conservation nonprofit, Sportsmen for Fish and Wildlife. The SFW is Utah's largest conservation nonprofit, having raised over $7.2 million to improve wildlife habitats over the past ten years. Hunts for the Brave combines its parent organization's mission to preserve pristine nature with a desire to give back to the "Brave": service members, heroic public servants, and youth fighting illness and disease. 
Since 2016, selected heroes are taken on a weeklong hunt to Utah's Causey Spring, where they pursue big game, to include elk and deer. For participants, who are often afflicted by combat wounds, the experience is life-changing. Surrounded by breathtaking views and untouched nature, the "Brave" feel reinvigorated and frequently express an interest to return as volunteers themselves. 
To ensure that all donations go directly to serving heroes, Hunts for the Brave is staffed entirely by volunteers, and hunting grounds are donated by generous benefactors. In addition to a host of corporate sponsors and individual donors, a prominent donor is the Bastian Family Foundation, which provides the organization its hunting lodge and grounds at Causey Spring. Jim and Linda Sigg, of Siggma Knives, also volunteer their time to guide hunt participants throughout their expedition. 
Apart from soliciting donations online and at hunting conventions, the organization also participates in auctions, selling artwork and military memorabilia to raise funds for its hunts. Hunts for the Brave's finances and operations are run by John Taylor, the chairman of its board.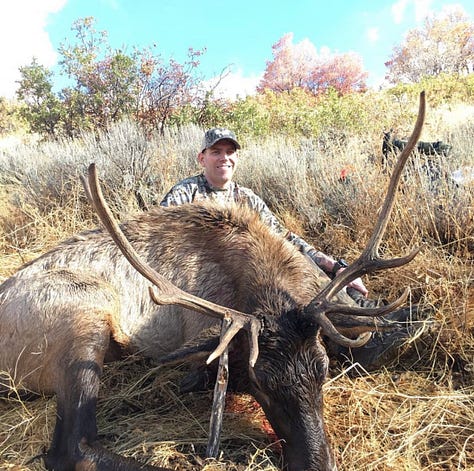 Die living. It is an ethos. It is a mantra. It is the motto of a fitness company. Founded by special operators on a mission to bring elite levels of fitness to the masses. 
But Soflete is much more than just a fitness company. It has given me much more than speed, stamina, and strength. Five or six years ago, they gave me an opportunity to write, and now I have a career that I love because the community built on the die living ethos gave me enough support to believe a long shot was worth taking.
Moreover, Soflete believes in improving the world as much as improving your dead lift. When my hometown was slammed by hurricane Florence, the phone call I got from an owner was to ask what the company could do to support. The only restrictions? They wanted no publicity, saying, "performative charity is masturbation". That commitment to doing the right thing for the right reasons at the right time and expecting nothing for it is one of the many reasons I intend to die living.
Dead Reckoning Collective is a veteran owned and operated publishing company. Founded by Keith Dow (US Army) and Tyler Carroll (US Army), DRC views literacy as a component of a well rounded and healthy lifestyle, and actively seeks to encourage veterans to explore literacy and what it means for their identity.
In addition to pushing work by veteran authors, DRC sponsors events such as poetry readings, concerts, peer writing groups, courses, and workshops to promote veteran literacy to the military community as well as to the public.
The DRC is full of resources - podcasts, book recommendations, information on in person events - you can find it all right on their website. Interested in publishing your work? Review the submission guidelines, and begin your journey today. The stories, works, and perspectives of the veteran community are unique. DRC recognizes the need to support and encourage veteran stories, and successfully works to bring them to life.
Sergeant Matt Abbate
Sgt Matt Abbate (Navy Cross Citation) was committed to the protection of and service to others. Before he was killed in action on December 2, 2010 he composed "The Gunfighting Commandments" and "The Rules of War," which dictate that: 
-Nothing matters more than thy brethren to thy left and right…Thou shall protect no matter what
-Someone must walk the point
When we honor the legacy of the fallen, connect, and serve our communities we earn the title of Pointman. 
You are now entering friendly lines.
The Patrol Base is a location for current service members and veterans to rest and refit inside the wire in order to deploy back to their local communities with a renewed sense of purpose. While it's important that we carve out a space for our members, we want to make sure that we equip those who served with the right tools to get back in the fight. We believe that a tribe and purpose are the essential elements for a warrior's mind and soul. As current service members and veterans, we are called to serve and seek to sacrifice. PB Abbate affords us an opportunity to continue that calling.
​Our Patrol Base is built around a cabin in Big Sky Country. It is intentionally austere to get us outside and on the move. Each year, we run several programs that bring service members and veterans with similar interests together. Our shooters, fishers, hunters, lifters, artists, and more will all have the opportunity to gather in squad sized elements led by subject matter experts in these respective fields. 
​We intend to continually improve our position and ourselves, so grab your e-tool and get ready to fill a sandbag as we come together as a community to build a place where all military service members and veterans can rally.
Abbate's Pointmen live these values through service to their communities and in forming local tribes to protect our flanks.  Every month, around the country, local chapters conduct social and service events. These local chapters serve as sustainable and enduring rally points, where our Pointmen connect and reignite their purpose through service to others. 
We currently have over 35 active local chapters. Check our events page to discover local chapter events that are happening in your area.
Local Chapters
When our Pointmen can't attend our programming or chapter events together, we keep lines of communication open 24/7 through our online platform. These forums allow our members to reach one another at any point in time.
Our Namesake
Patrol Base (PB) Abbate Return to Base (RTB) Program
As one of the three components of PB Abbate, the RTB Program is an opportunity for our members to come together as a community to refit and connect in Thompson Falls, Montana. Typically, these programs are built around one or our interest-based clubs (e.g., Book, Strength, or Fight Club). The programming is led by the club captain and supported by PB Abbate staff. A link to all of our clubs can be found here.
RTB Program Schedule - 2022
HUNT: April 21 - 24
BOOK: June 23 - 27 
GOLF: July 21 - 25 
FIGHT: July 28 - August 1 
STRENGTH: August 4 - 8
What can I expect from the RTB Program?
You can expect to spend four nights / five days (Thursday – Monday) in the mountains of Thompson Falls, Montana at our patrol base. It is an austere, primitive environment, where the daily activities will revolve around your club's common interest (i.e., the Strength Club will have an Olympic lifting seminar followed by a workout; the Fight Club will have a BJJ lesson followed by a sparring session; the Book Club will examine elements of a text and have a guided discussion, etc). Additionally, each program is staffed with an iRest yoga instructor who will lead one to two sessions per day.
​We check our egos outside of the Patrol Base and want you to participate in each event. Expect to work on yourself, work to make connections, and work physically to improve our Patrol Base.  
​The central pillars of our programming are Service Work, Fireside Chats, and Nature.
Service Work 
During your time at the Patrol Base, you will engage in a service project to improve the local area or community. Past examples include clearing brush for fire prevention, building the Strength Club's lifting platform, and rehabilitating a cabin located on the property.
We believe in leaving things better than we found them, and that by improving our communities, we improve ourselves.  The service component of our programming primes our members for the culminating event, where each member fills a sandbag. Members are asked to dedicate their sandbags to someone or something that they're committed to honoring back in their homes and communities. This symbolic ceremony prepares our members to become Pointmen within our organization. 
Fireside Chats 
Inside friendly lines, members are able to rest and refit. Our Fireside Chats encourage communal healing through vulnerable conversations that are rooted in empathy and trust. These loosely guided discussions are foundational to the bonds and connections formed throughout our program.
Nature 
We are located in one of the most beautiful areas of our incredible country. We believe the outdoors is restorative and healing. During our program, members can expect to hike, kayak, and spend time immersed in nature. 
After attending the RTB Program, we anticipate that you will be a Pointman in your local PB Abbate Chapter and find ways to fill sandbags in your community. 
Conflict, in its many forms, is chaos. Mastering the calm within that chaos makes us more efficient, effective, and lethal in our assigned tasks and operations, be it assaulting a compound, a family dinner when you are still in a delicate space with people, or simply getting through the daily grind of life. Mindfulness is not a weakness, nor a vulnerability; mindfulness allows a calm, an ability to embrace the chaos. Thinking, breathing, and practiced movement are all proven ways to demonstrate 'Chaos is a friend of mine.' This quote is from what started off as a T-shirt company and has morphed into something more, something that shows those a better, perhaps unknown path to mastering that chaos. 
American Yogi in the manifestation of a novel idea. The idea that Yoga doesn't need calming music, essence, or other traditional accruements of 'normal' Yoga to be effective in mastering chaos. Phil, one of the founders of American Yogi, started his journey toward this realization after breaking his back in 2015. As a last resort, Phil turned to Yoga to deal with his recovery's pain and depression. The ability for Yoga to improve on the both the physical and mental aspects of recovery and living made Phil and his brother Mike, the other founder of American Yoga, realize not everyone is instantly drawn to yoga nor does everyone understand the amazing effects it can have on their life. American Yogi began with the premise of making Yoga accessible. It's for the veterans, the 9 to 5'ers, the moms, the dads, and any seekers of peace.
Phil continues, 'Going to war (with your demons) doesn't have to be a violent thing; address your feelings; address those thoughts … fight it out on the mat'. American Yogi allows non-traditional Yoga practitioners, especially those in the military, to come together with your tribe, to be yourself. American Yogi is the vehicle to get people to get in touch with their peace, to obtain a respite from the daily grind. One of the core mantras of American Yogi is its ok to be tough, to be strong, to be vulnerable and talk about centering yourself. American Yogi presents conflict, in the form of the mat, allowing those of us who traditionally fight the chaos to overcome it, to harness it, and master it so we can protect those who mean the most to us, to include ourselves. 
American Yogi t-shirts, classes, and philosophy can be found at
& Instagram/Facebook at Live American Yogi.
Sangin Instruments was born out of necessity - the need for a multi-dimensional and adaptable watch, that could be worn worn with a suit while we briefed an ambassador or a commander, but one that could also be worn during kinetic situations on patrol or in the field. So was born the "Kinetic" - the flagship timepiece from Sangin Instruments.
Built by the community, for the community, the team at Sangin understands the need for a timepiece that stands the test of time. Stylish, durable, and field tested, Sangin Instruments provides the solution we didn't know we needed. With Sangin, you don't have to compromise style for durability or performance. Sleek faces, interchangeable bands, and the combat performance you demand. From 200 meters of water resistance with The Neptune to the multi-time zone capable Kinetic II, you'll be sure to find the timepiece that best suits your needs.
According to a 2019 Department of Veteran Affairs study, while the Veteran population is declining, the percentage of Veterans with a service-connected disability has been steadily rising.  These injuries, both visible and invisible, add to the potential struggle a Veteran can face after transitioning out of military service, and reintegrating into their civilian communities.
No Barriers Veterans' programs serve as both an opportunity for growth and a catalyst for change as these brave men and women stretch physical and emotional boundaries, foster camaraderie, push through adversity, and step up to serve others. 
Warriors programs are separated into two categories: NB offer opportunities for veterans to come together in person for back-country expeditions or virtually, through the Warriors At Home program.
Veterans Expeditions is a nonprofit that strives to empower veterans to overcome challenges associated with military service through outdoor training and leadership. VE sponsors various outdoor excursions open to the veteran community such as rock climbing, ice climbing, and backcountry skiing all over the United States.
Founded by Mike (US Navy retired, 2016) and Tammy Oluvic, Saddles in Service is a 501(c)(3) nonprofit that aims to provide therapeutic access and horsemanship training to Veterans, Active Duty Military, First Responders, and their families that have been diagnosed with or are experiencing symptoms related to post-traumatic stress (PTSD), anxiety, depression, job-related stress, and/or traumatic brain injuries. Their mission is to combat suicide rates and to promote mental health wellness and healing to these Heroes and their families through equine-assisted learning and activities.
Saddles in Services offers programs in three locations:
San Diego, California

Shell, Wyoming

Elkhart, Texas
The program is free to Veterans, Active Duty Military, First Responders, and their families.
One More Wave is a certified IRS tax-exempt non-profit 501(c)(3) with a mission to provide wounded and disabled veterans with customized surfing equipment and a community to surf with.
The Custom Board Design Process
Apply
Complete an application form then virtually meet with an HQ representative to assess which equipment path is right for you.
Design
Work with a design team made up of shapers, artists, and fiber glassers through the 27-step process that goes into making a fully custom surf craft that fits the rider's needs.
Surf
It all comes down to finding peace, health, and wellness in the surf zone. While the boards we make are works of art they aren't made for display cases. These boards are built to be ridden!
"Back Azimuth Solutions" (BAS) founded by Tyler Heisey [ IG: @back.azimuth.solutions]  is the first thing that came to mind as an honorable mention for groups doing some great and underrated things online in the veteran community. The increasingly popular page has hit the mark with vignettes of quality content geared effectively towards servicemembers, veterans, and ambitious leaders in a social media space with no shortage of motivational platitudes and mental health slacktivisms of little substance. As a former Army Master Resiliency Trainer (MRT) and advocate for mental health education that has been helped significantly by therapy myself- I think BAS is making great inroads in introducing overlooked concepts to the military community online that is often eager to discuss current events, tactics, gear, fitness, and skills training online, but finds little incentive to address the mind and our relationships with one another when we know that resiliency, adaptability and the capacity to endure are critical skills that will serve one well at any time in their lives, and significantly improve performance. 
Obviously, this is no substitute for therapy, but Tyler who is studying to be a therapist himself has found an effective balance of graphics and warrior "Blaze Forward" theme is a fantastic introduction to introduce principles of subjects that may otherwise only be learned in therapy. Most troops (or the general population for that matter) rarely think about how they think, and don't know what they don't know when it comes to stressors and may only have one or 2 tools in their mental toolkit to navigate obstacles or interact with others. The Army understood this and the impact it could have on the resiliency of servicemembers and their families when it rolled out the "Whole Soldier Concept" over 10 years ago and made resiliency part of its mandatory training to arm its troops with some of the basic tools and frameworks of cognitive behavioral therapy (CBT), positive psychology, conflict resolution, and more. Honestly, if you are serving now I encourage you to fight to attend the Master Resiliency Training course -10 days of dedicated classroom training to learn 11 core competencies well enough to teach others.
Bringing this back to BAS, they appear to cover an important gap that leaders run into with any type of mandatory training in that others cannot be forced or coerced to do anything without their own intent- leaders instead need to meet people where they are taking them where they want to go. I have run into plenty of Soldiers that will do the bare minimum in mental health and resiliency information or resist participating altogether while leadership will push to get through 4 hours of material in 45 minutes so a box can be checked- so it is excellent to see a page carving out a niche in social media that is pushing out quality ideas in the space where people already are and presenting that information in a stylized manner that I think really will connect with the type of individuals that probably need to hear it the most. The formatting of the vignettes pairing the personal development concepts with the comic book adventures of Marine Sgt Johnny Blaze fighting through the Pacific is an excellent creative choice that I hope continues or even gets developed into its own comic strip or perhaps a training style booklet.
Take care, be kind, and Blaze Forward!
-Eric Strand: Director of the War Murals Project
Podcasts have become one of the premier methods of media used in today's age for education and entertainment. In the past year, a new podcast has surged to the forefront of the military community in Moments in Leadership hosted by LtCol (Ret) Dave Armstrong. Dave, a retired artillery officer who served for over 20 years on active duty and in the reserves, has found a niche in interviewing some of today's most senior and respected military leaders. His passion for forming a discussion that explores not only their successes but their failures along the way has found great appeal with the members who serve underneath these same leaders in the different military branches.  
The uniqueness of this podcast is the ability for Dave to bring out in conversation the most impactful experiences that have shaped these leaders in their formative years within their respective organizations. There is a frankness provided in the interviews that allows current service members to get a peek behind the curtain of the decision-making process that occurs internally within the individual and externally within the organization at their level. This insight allows members of the armed forces to walk away from listening to a podcast with an increased understanding of organizational methodology as well as the considerations a leader weighs. The ability to hear from a general officer about not only the decisions that have led to their success but often more importantly the mistakes that they made as a young lieutenant, is a value added to any service member looking to improve their own performance. 
Arguably one of the most impactful aspects of the Moments in Leadership podcast, which may be overlooked by some, is for members of the armed services to come away from an episode with the newfound ability to empathize with a leader at a level they may not get the chance to associate with typically. When a young corporal or lieutenant listens to the forthright discussions between Dave and his guests, generational as well as rank divides, are broken down within the military to create an understanding that is hard to replicate by any other means. This refined understanding of senior leaders better enables listeners not only to cope with similar problems they may face but aids in thwarting the discontent often expressed from subordinate to senior leadership in the military. People are less likely to generalize and hold malice towards those that have been humanized through the sharing of experiences and the discovery of common ground, which is provided by listening to interviews like the ones hosted on this podcast. 
The success of the Moments in Leadership podcast is on display currently in the influx of positive reviews from listeners which can be read on iTunes or Spotify. Sentiments about how valuable a resource this is from those still young in their career, as well as how much of a value add this could've been for those that are already veterans, are repeated with regularity in the reviews. It is common to see the podcast shared on the stories of almost all of the most prominent and respected Marine leaders in the realm of social media with each new episode that is released. 
Dave's enthusiasm and passion for delivering the ungarnished truth behind leadership in the military have been impactful to the tens of thousands who have listened to the podcast during its rise in popularity in 2022. There is no doubt that this podcast is changing the organizational culture within the military for the better. The age of technology has allowed for social reach that previous generations have never been capable of achieving and it is projects like Moments in Leadership and individuals like Dave who have a vested interest in bettering others, that will continue to affect leadership en masse moving forward.  
In mid-November an Instagram page, Quantico Warfighting Society, surfaced with videos that were shared across the feeds of many of the most prominent Marine leader pages. It was at this same time that letters which appeared to have been typed on a classic typewriter started to pop-up all-around Quantico. Marines were finding the letters, which were wax sealed with the famous image of the battle of Belleau Wood, on their duty desks, stuck to door handles of buildings, and slid under their barracks room doors. The letter was addressed "To: Those who would do our countries bidding" an open message to all service members. It went on to describe the history of our nation in conflicts, the enduring threats to our country, and the responsibility of the individual to do their part as a professional in this occupation. Intriguing, yet intentionally vague there was no further explanation given in the letter, simply a location and date for a presumed meeting.
On Tuesday November 15th, two dozen Marines, veterans, and civilians, met at Yale Hall in the evening hours to see what this Quantico Warfighting Society actually was. They were greeted by GySgt McGrortyHunter, a faculty advisor at the Staff Noncommissioned Officers Academy Quantico, the voice behind the videos and the man behind the typewriter. GySgt McGrortyHunter began the inaugural meeting with a brief history of Warfighting Societies dating back to the Berlin Warfighting Society (1801-1806) created by Gerhard Von Scharnhorst, and attended by Carl Von Clausewitz, during the restructuring of the Prussian military to combat Napoleon conquest for Europe. He then introduced the crowd to the intellectual renaissance of the late 1980's that occurred on Quantico and resulted in the widespread adoption of maneuver warfare with capstone documents such as MCDP-1 being created. This brief history was concluded by teaching the members about the current Warfighting Society structure, which hosted by Damien O'Connell at the Manuverist.com, encompasses a total of 6 separate active chapters in units such as 3/7,3/2, and 3rd Marines.
The Quantico Warfighting Society was established to fulfill the overarching mission of creating a space where service members, veterans, and civilians, regardless of rank or occupation, are able to participate in discourse, debate, and criticism of the military with the intent to improve both individuals and organizations. The chapter meets regularly to share in exercises such as tactical decision games, decision forcing case studies, and battle studies, to hone the abilities of the individual members. Guest speakers are invited to share their experience and help drive discussion on topics relevant to military service and warfighting. Members are encouraged to voluntarily develop periods of instruction that will not only enhance the other members' understanding of concepts but aid in the analysis of the topic with regards to its applicability and room for possible improvement.
The Quantico Warfighting Society is creating the space that allows for those that are truly dedicated to becoming professionals in the profession of arms to meet up and share in each other's intellectual growth. Grass roots movements like these historically have resulted in outcomes as critical as doctrine that has led the Marine Corps through decades of war, and it is in this same manner that the chapter aims not to simply admire the problems of the present but to produce products of relevance that help to guide organizational change and adaptation into the future.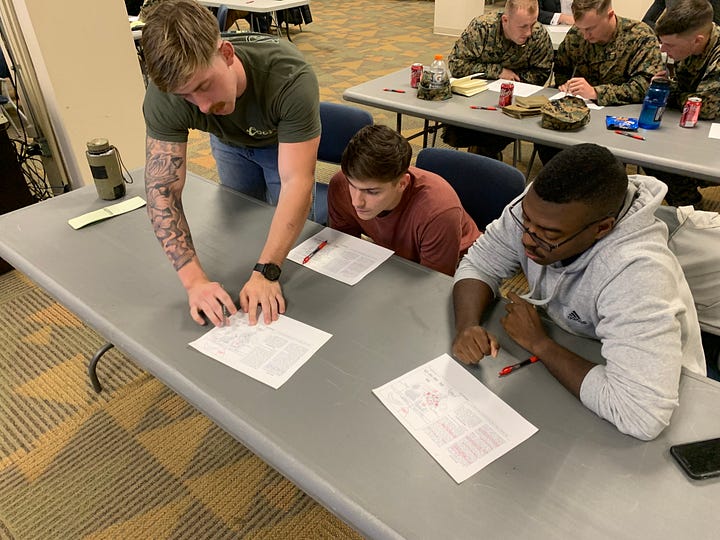 For more information on the Quantico Warfighting Society or to get involved reach out to the below channels.
Instagram: @Quantico_Warfighting_Society
Email: QuanticoWarfightingSociety@gmail.com
Missing the smell of field showers? Or maybe the scents radiating from your favorite woobie?
Pop Smoke Media is excited to announce that these candle scents, and many others, are available through our Veteran-Owned Business of the week: Fire For Effect Candle Company (FFE).
FFE has crafted a wide variety of fragrances for those missing the scents of their service. These candles come in a variety of aromas, ranging from "Night Ops," all the way to our favorite, "Pop Smoke."
"The best way to put it is like this: we want guys to be comfortable saying, 'I like candles,' or, 'Dude, you should smell this candle I bought,'" FFE Co-Founder Tristan Embry told Pop Smoke Media last week.
The company originally began as a joke between the two founders. It was a brief quip about bottling up the smell of Humvee exhaust while at the motor pool that led the pair to research it as a career choice.
To the surprise of Embry, the market for these kinds of candles was "virtually untouched."
Fire For Effect's Mission(s)
Besides the lack of competition, the two also created FFE to help people "find a connection with a veteran company outside of T-shirts, tactical gear, stickers, more T-shirts, alcohol, and breweries."
Fire For Effect Co-Founders Tristan Embry and Bob Hulsey with their product stand, San Antonio, Texas. (Courtesy Photo provided by Fire For Effect Candle Co.)
According to Embry, each scent is made with three guiding questions: "How likely is someone outside of the military able to recognize the scent?", "Is the scent masculine yet subtle enough to have as an everyday scent?", and finally, "Is it a pleasant scent?"
If you are wondering how the "Night Ops" scent could possibly be pleasant, don't worry. Embry described it as "earthy pine overtones with a light lingering aroma of coffee beans."
There are more familiar choices as well, such as cherry pie. Regardless of the smell you may want, Fire for Effect has focused on creating olfactory experiences centered on a "Positive Mental Headspace."
According to FFE's mission statement, "Negative thoughts and Veteran suicide are our enemy…we are locked on target and ready to Fire for Effect."
It is the brand's hope that, by combining memories of service and the tranquility of a well-scented candle, some of the mental burdens affecting the military community can be lessened.
FFE is not only hoping to help mend post-service health issues; they are directly contributing with their "Burn Pit" candles. These candles are made by mixing together all of their other scents in layers, resulting in a mystery smell that changes as the candle burns.
All of the proceeds from the "Burn Pit" candles go directly to the HunterSeven Foundation, an organization that researches and advocates for the health of veterans who have fallen ill due to their service.
To find out more about Fire For Effect, please go to their website:
https://ffecandles.com/
Christopher Paul Meyer, Artistic Director/Founder
https://savagewonder.com
I remember the first play I directed. It wasn't anything to brag about. It was a one-act comedy playing Off-Off Broadway but I was elated to be directing. I'd been acting for a few years and I felt that my instincts as an actor might make me a halfway decent director. Our opening weekend was promising – folks were laughing and the actors were at the top of their game. I started to plot my next directorial effort. We were dark on Monday night. And then came Tuesday, when a few assholes flew some planes into the tallest buildings in my hometown. The play never opened again. It's safe to say my life took a few sharp turns after that.
It's taken me twenty years to get back to the theater. I founded VetRep to bring the veteran community (including military, law enforcement, fire/EMS, foreign service, intelligence services, DoD contractors – and their immediate families) with me.
Theater is the most imaginative, subversive, creative, and unpredictable performing art. Theater is also a writer's medium where the script is sacrosanct. It demands real craft. And those that can master it can write anything. It is the perfect hothouse in which to develop writers from the veteran community. Yet veterans may be the most underrepresented group in American theater and the live performance arts.
We aim to change that.
In our first full year, we showcased over 75 veteran performing and visual artists from across the country through the Savage Wonder Festival of Veterans in the Arts, the Savage WonderGround immersive art event in Alexandria, VA, our Savage Wonder podcast (we just released our 53rd episode!), our Write Loud shows on Instagram Live, and our daily literary blog. We awarded $25,000 in grants to veteran playwrights, welcomed 2 playwrights into the Artists-in-Residence program, conducted 2 workshops of veterans' plays, and presented 30 performances at our Parlor performance space in Cornwall, NY. On top of all that, we now have 13 plays that we have in various stages of development. 
Why is it so important to bring veterans into the theater? Because veterans are special – no they're not stronger, faster or better-looking than anyone else. But they are bonded by 1) a high volume of significant emotional events, 2) experienced over a compressed period of time and 3) relatively early in life. That creates a special kind of person – a person familiar with the extremes of the human experience, a deeper understanding of conflict, an appreciation of a high-stakes, life-or-death profession. That, my friends, is an understanding of drama. Veterans have a wealth of experiential knowledge that can make for wildly unpredictable, compelling, entertaining theater. Now, not every veteran will be a phenomenal playwright or world-class artist. But VetRep takes the wager that, given the opportunity, we can find the ones that are. The wide variety of life experiences, the low-maintenance mindset, the painfully accumulated self-knowledge – veterans can offer a lot to an arts culture that can often seem increasingly provincial, close-minded, one-sided, self-important and lacking perspective.
We are preparing for a strong 2023. We want to workshop at least 7 of the 13 veteran-authored plays currently in various stages of development, award another $25,000 in grants to veteran playwrights, and feature a series of 10-minute plays written by our veteran playwrights from the past two competitions for the 2023 season at the Parlor. We also want to continue to showcase veteran artists through the Savage WonderGround immersive theater events (maybe in a town near you!), the weekly Savage Wonder podcast, the monthly Write Loud shows, and the daily literary blog. We look forward to seeing you at any - or all - of them!
——————————
This ends Volume 7, Edition 1, of the Lethal Minds Journal (15DECEMBER2022)
The window is now open for Lethal Minds' eighth volume, releasing February 1st, 2023.

All art and picture submissions are due as PDFs or JPEG files to our email by midnight on 20 January.

All written submissions are due as 12 point font, double spaced, Word documents to our email by midnight on 20 January.

lethalmindsjournal@gmail.com
Special thanks to the volunteers and team that made this journal possible:
Erin
R.W Parker
Steven
Matt Miranda
Jeremy Kofsky
The Bulletin From The Borderlands Team
All articles published in this newsletter are the personal opinions and positions of the authors themselves. All content, and the Lethal Minds and Lethal Minds Journal brand is the copyright of Lethal Minds
©